Beginnings: 1910 – 1953
In the very early days, the spiritual needs of Catholics in the West Park County area were cared for by Rev. Nicholas Endres. Father Endres journeyed to Cody on horseback and later by train from Thermopolis, which he called home. From 1910 onwards, Father Endres visited Catholic families on ranches, farms, and in the many small towns throughout the Big Horn Basin, and as early as Easter 1910 he offered Mass in Cody.

In 1915, with a gift of $1,000 from the Catholic Church Extension Society, Father Endres built the first Catholic Church (which today stands in Meeteetse, Wyoming, as St. Theresa of the Child Jesus) on Sheridan Avenue near the Park County Courthouse. The site was a gift from Mrs. Charles DeMaris who in turn requested that the Church be dedicated to and named St. Anthony. The works of Father Endres were continued after a resident pastor came to St. Barbara's in Powell and St. Anthony's Cody became a mission of Powell. Rev. Bernard Schneider (returned to Holland in 1933), Rev. John Spillane, and Rev. Fred Kimmett in turn cared for the spiritual needs of Cody Catholics. In 1922, Rev. John Spillane began visiting and offering Mass in Yellowstone National Park during the summer months, and since then Masses have continued to be offered at various points in Yellowstone from mid-June to Labor Day inclusive. Today this duty in Yellowstone belongs to the Cody Parish.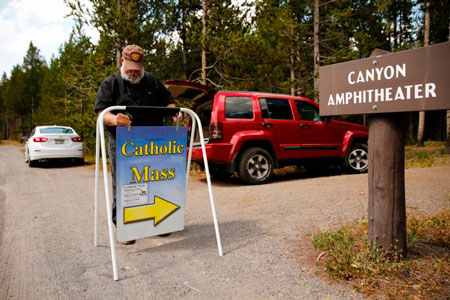 In a document dated October 23, 1940, the Parish of St. Anthony in Cody, Wyoming, was established by the late Most Rev. Patrick A. McGovern "at the request and with the approval of the parish of Powell."

On January 16, 1944, Rev. Francis Penny was appointed pastor of St. Anthony's in Cody but he resided at St. Barbara's in Powell where he was administrator in the absence of Rev. Fred Kimmett who had gone to serve as Chaplain in the U.S. Armed Services. In August of 1946, upon the return of Father Kimmett and rooms having been added to the church building in Cody, Father Penny came to reside in Cody as the first permanent pastor. The first trustees of St. Anthony's Church corporation were Martin Hurley and John Weber. The number of Catholics began to grow, now that Father Penny was in residence here, and with the increase of tourists to Yellowstone in the years that followed World War II, it became evident that a new Church was needed.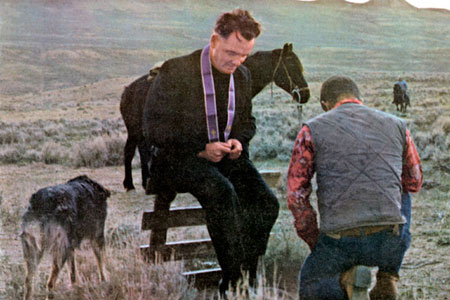 1954 – Present
With the acquisition of property from Mr. Paul Stock for $10,000 on Monument Avenue, this vision became a reality when on October 7, 1954, the present St. Anthony's Church was dedicated. There it stands on the flats near the Buffalo Bill Center of the West against the background of both Rattlesnake and Cedar Mountains. Everyone agreed that no prettier site could be obtained and certainly the wisdom of the Holy Spirit was at work when a decision was made to accept the present location in preference to other sites and properties at 17th and Beck and 16th and Rumsey which the parish possessed.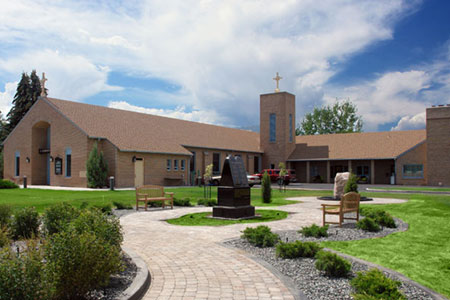 In 1960 a new Rectory was built (attached to the Church) as a permanent residence for the pastor, and Father Penny moved in for Christmas. In the fall of 1971 a much needed facility, then called St. Anthony's Catechetical Center (now the Parish Center), was opened for use for the religious education of Catholics in the Cody area. At first this program of religious education was under the supervision of the Victory Noll Sisters who came here weekly from Powell. In August of 1982 Sister Mary Irenea BVM, a Sister of Charity from Dubuque, Iowa, arrived to assume the office of Religious Education Director and Coordinator.

In May, 1977, Msgr. Penny announced his retirement from active duty, and on June 1, 1977, Rev. Charles Brady, then pastor of St. Anthony's Church in Casper, was named the new pastor. Fr. Brady assumed duties in Cody on June 15, 1977; he served until his death on February 4, 1993.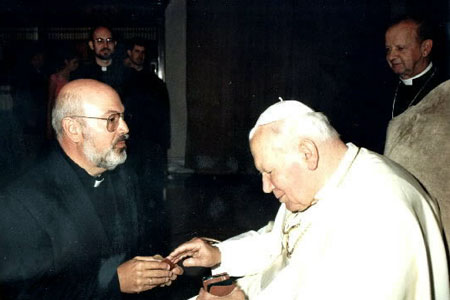 The Rev. Kevin Koch served as interim pastor until September, 1993. The Rev. Joseph A. Daley, then pastor of St. John the Baptist Church in Buffalo, was named the new pastor at St. Anthony's Cody and assumed his duties in September of 1993. Father Daley announced his retirement from active duty in May, 2003, and on July 1, 2003, Rev. Vernon Clark, then pastor of St. Joseph's Church in Cheyenne, was named the new pastor. Fr. Clark served until his retirement in June, 2021, at which time Fr. Charles Heston Joseph, formerly Parochial Vicar at St. Anthony's, was named pastor effective July 1, 2021.

In 1953 a church was built by the men of St. Barbara's in Powell and was dedicated at Clark as Our Lady of the Valley Mission. On July 1, 2010, the Bishop of Cheyenne transferred administration of Our Lady of the Valley from St. Barbara's to St. Anthony's.

In the spring of 2019 a new rectory located at 1319 Sunset Blvd., South, was purchased. Plans are in development to utilize the old rectory as a gathering space for the parish.
And our story continues ...
Today the parish is a very active Catholic community meeting the spiritual need of Catholics living in a constantly changing modern world. Our prayer is that we will always be faithful and loyal to the Gospel and be ever ready to share our faith with those who are searching and seeking the Truth.